International Journal of Computer Science Education in Schools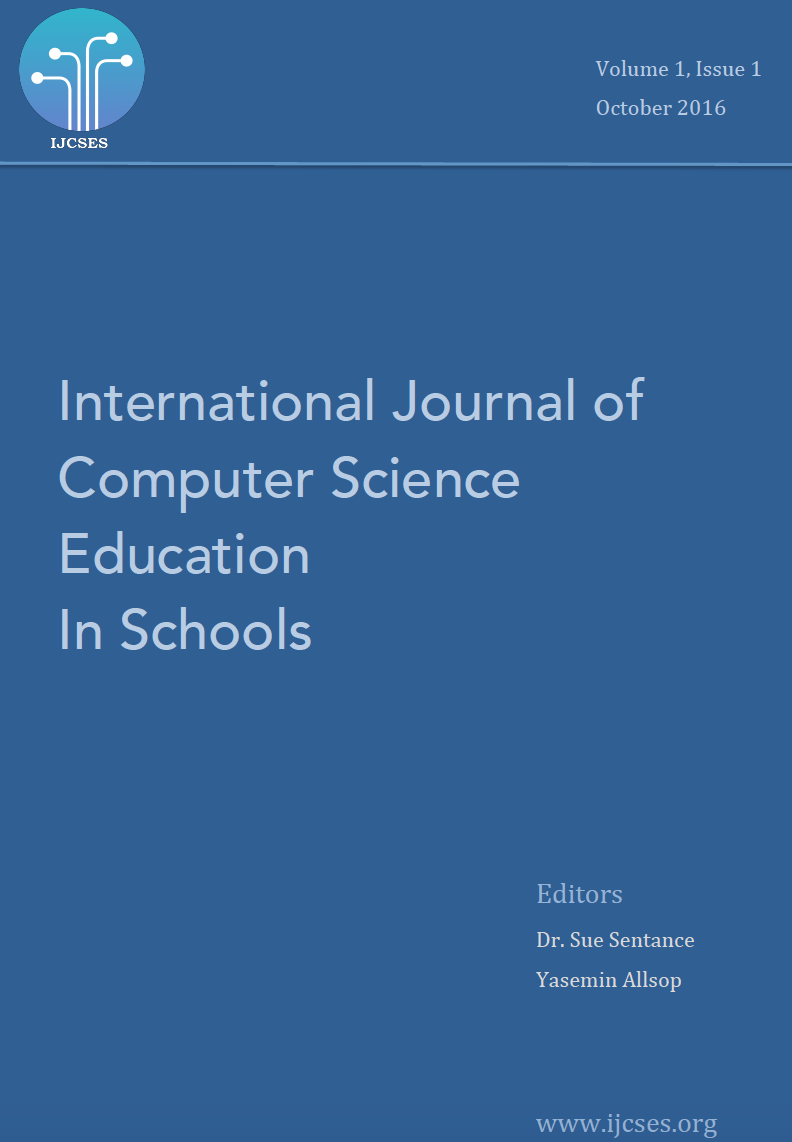 The International Journal of Computer Science Education in Schools (IJCSES) is committed to increase the understanding of computer science education in schools by publishing theoretical manuscripts, empirical studies and literature reviews. The journal focuses on exploring computer science education in schools through pedagogical, cognitive and psychological perspectives. 
The Journal is indexed in Google Scholar and published articles are included in ERIC.

Objectives and Mission
The objective of this journal is to develop a research network in teaching and learning in Computer Science Education in schools and related topics through high-quality research that focuses both theory and practice. This would enable academics and educators who are interested in research about theoretical developments in Computer Science Education, to reach most recent studies. The network would also provide a communication point for teachers who are interested in engaging in research projects, but not feeling confident. Additionally it provides researchers, teachers, students, and policymakers with valuable information in Computer Science Education in schools, and increases their understanding of the pedagogies and practices in this field. The  IJCSES also identifies future directions in this constantly changing educational medium.
The journal welcomes studies from diverse research orientation. Studies that are based on qualitative data, such as case studies and  historical analysis are equally highly regarded as studies based on quantitative data.
Peer Review Policy:
IJCSES is committed to a transparent, productive, and rigorous peer review process. IJCSES's peer review process asks a great deal of reviewers and community members who participate in the open peer review process. Because of this, we will only publish original contributions that have not been published, or submitted for publication, elsewhere.
After Open Peer Review has been completed, authors will have at least two weeks to revise their contributions. Upon submitting a revised contribution, all contributions will be published and archived in a specific "issue" on the IJCSES website.
 Any visitor to this site can browse the abstracts but to read the contents and download the PDF files, you need to be a registered user and log in. Registration is free and your contact information will only be used to inform you when a new issue is published.
Articles should relate to school education. Topics of interest include but are not limited to:
Computer Science / Computing Education 
Computational Thinking
Teacher Education in Computer Science
Professional Development in Computer Science
Programming in Schools
Creativity and Computing
Artificial intelligence in Education
Computer graphics and Virtual reality
Computer Game Design 
Teacher research in Computing
Gender and diversity in Computing Education
Inclusion in Computing Education
Publication Charge Policy
Publishing in IJCSES Journal is free of charge.
IJCSES welcomes high-quality research articles from academics, educators, teachers, trainers and other practitioners on all aspects of computer science education in schools. Papers for publication in the International Journal of Computer Science Education in Schools are selected through peer review to ensure quality, originality, relevance, significance and readability.